Rack-Mountable Power Amplifiers
Active Components > Amplifier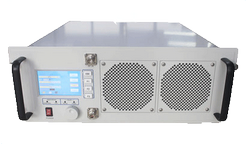 We provides ultra-broadband power amplifier systems in rack-mounted configuration with output power capacity from 50-Watt to 2000-Watt for applications including EMC testing, communications, and TWT replacement.
Built-in monitor circuit helps these power amplifier systems survive from any faulty working conditions such as over-driven, load-mismatch and thermal overload.
Digital interfaces as Ethernet and RS232/RS422 are available for remote on/off switch and power level control.
Model No.

Start

Stop

Pout

Power Gain

AC Power Input

Size

(MHz)

(MHz)

(Watt)

(db)

(mm)

KB0001003S53A

1.5

30

200

53

100~260VAC, 50/60Hz

19', 4U

KB0001003S57A

1.5

30

500

57

100~260VAC, 50/60Hz

19', 5U

KB0001003S60A

1.5

30

1000

61

100~260VAC, 50/60Hz

19', 5U+4U

KB000101S54A

1

100

250

54

100~260VAC, 50/60Hz

19', 5U

KB000101S57A

1

100

500

57

100~260VAC, 50/60Hz

19', 5U+2U

KB00201S53A

20

100

200

54

100~260VAC, 50/60Hz

19', 4U

KB00201S57A

20

100

500

57

100~260VAC, 50/60Hz

19', 5U

KB00201S62A

20

100

1500

62

100~260VAC, 50/60Hz

19', 5U+5U

KB00202S60A

20

200

1000

61

100~260VAC, 50/60Hz

19', 5U+4U

KB0204S57A

225

400

500

57

100~260VAC, 50/60Hz

19', 5U

KB0204S60A

225

400

1000

61

100~260VAC, 50/60Hz

19', 5U+5U

KB0105S54A

100

500

250

54

100~260VAC, 50/60Hz

19', 3U

KB0105S57A

100

500

500

57

100~260VAC, 50/60Hz

19', 5U

KB0105S60A

100

500

1000

61

100~260VAC, 50/60Hz

19', 5U+5U

KB002052S57A

20

520

500

61

100~260VAC, 50/60Hz

19', 5U+3U

KB002052S54A

20

520

300

54

100~260VAC, 50/60Hz

19', 4U

KNP810S57A

791

821

500

57

100~260VAC, 50/60Hz

19', 4U

KNP820S57A

806

825

500

57

100~260VAC, 50/60Hz

19', 4U

KNP860S57A

850

870

500

57

100~260VAC, 50/60Hz

19', 4U

KNP880S57A

861

894

500

57

100~260VAC, 50/60Hz

19', 4U

KNP920S57A

890

960

500

57

100~260VAC, 50/60Hz

19', 4U

KB00210S60A

20

1000

1000

61

100~260VAC, 50/60Hz

19', 5U+5U

KB00210S53A

20

1000

200

54

100~260VAC, 50/60Hz

19', 4U

KB00210S51A

20

1000

125

51

100~260VAC, 50/60Hz

19', 2U

KB00810S60A

80

1000

1000

61

100~260VAC, 50/60Hz

19', 5U

KB00810S57A

80

1000

500

58

100~260VAC, 50/60Hz

19', 5U

KB00810S53A

80

1000

200

54

100~260VAC, 50/60Hz

19', 4U

KB00810S45A

80

1000

30

45

100~260VAC, 50/60Hz

19', 2U

KB00810S43A

80

1000

20

43

100~260VAC, 50/60Hz

19', 2U

KB0410S60A

400

1000

1000

61

100~260VAC, 50/60Hz

19', 5U+3U

KB0410S55A

400

1000

500

58

100~260VAC, 50/60Hz

19', 5U+2U

KB0410S53A

400

1000

200

54

100~260VAC, 50/60Hz

19', 4U

KB0512S60A

500

1200

1000

60

100~260VAC, 50/60Hz

19', 5U+3U

KB0512S57A

500

1200

500

57

100~260VAC, 50/60Hz

19', 5U

KB0512S53A

500

1200

200

53

100~260VAC, 50/60Hz

19', 4U

KNP1400S60A

1200

1600

1000

60

100~260VAC, 50/60Hz

19', 5U+3U

KNP1400S57A

1200

1600

500

57

100~260VAC, 50/60Hz

19', 4U

KNP1800S57A

1710

1880

500

57

100~260VAC, 50/60Hz

19', 4U

KB0820S60A

800

2000

1000

60

100~260VAC, 50/60Hz

19',5U+3U

KB0820S57A

800

2000

500

57

100~260VAC, 50/60Hz

19',5U

KB0820S53A

800

2000

200

53

100~260VAC, 50/60Hz

19',4U

KB0820S50A

800

2000

100

50

100~260VAC, 50/60Hz

19',4U

KB1020S57A

1000

2000

500

57

100~260VAC, 50/60Hz

19', 5U

KB1020S55A

1000

2000

300

55

100~260VAC, 50/60Hz

19', 4U

KB1020S53A

1000

2000

200

53

100~260VAC, 50/60Hz

19', 4U

KB1020S50A

1000

2000

100

50

100~260VAC, 50/60Hz

19', 4U

KNP2000S60A

1800

2200

1000

60

100~260VAC, 50/60Hz

19', 5U+3U

KNP2000S57A

1800

2200

500

57

100~260VAC, 50/60Hz

19', 4U

KB0723S57A

700

2300

500

57

100~260VAC, 50/60Hz

19', 5U

KB0723S53A

700

2300

200

53

100~260VAC, 50/60Hz

19', 4U

KB0525S57A

500

2500

500

57

100~260VAC, 50/60Hz

19', 5U

KB0525S53A

500

2500

200

53

100~260VAC, 50/60Hz

19', 4U

KB0525S51A

500

2500

125

51

100~260VAC, 50/60Hz

19', 4U

KB0825S57A

800

2500

500

57

100~260VAC, 50/60Hz

19',5U

KB0825S53A

800

2500

200

53

100~260VAC, 50/60Hz

19',4U

KB0825S50A

800

2500

100

50

100~260VAC, 50/60Hz

19',4U

KNP2400S57A

2300

2500

500

57

100~260VAC, 50/60Hz

19', 4U

KB0527S57A

500

2700

500

57

100~260VAC, 50/60Hz

19', 5U

KB0527S53A

500

2700

200

53

100~260VAC, 50/60Hz

19', 4U

KB0527S50A

500

2700

100

50

100~260VAC, 50/60Hz

19', 4U

KNP2500S57A

2300

2700

500

57

100~260VAC, 50/60Hz

19', 5U

KNP2600S57A

2500

2700

500

57

100~260VAC, 50/60Hz

19', 5U

KB0830S60A

800

3000

1000

60

100~260VAC, 50/60Hz

19',5U+3U

KB0830S57A

800

3000

500

57

100~260VAC, 50/60Hz

19',5U

KB0830S53A

800

3000

200

53

100~260VAC, 50/60Hz

19',4U

KB0830S50A

800

3000

100

50

100~260VAC, 50/60Hz

19', 4U

KB1030S60A

1000

3000

1000

60

100~260VAC, 50/60Hz

19', 5U+3U

KB1030S57A

1000

3000

500

57

100~260VAC, 50/60Hz

19', 5U

KB1030S53A

1000

3000

200

53

100~260VAC, 50/60Hz

19', 5U

KB1030S50A

1000

3000

100

50

100~260VAC, 50/60Hz

19', 4U

KNP2900S57A

2700

3100

500

57

100~260VAC, 50/60Hz

19', 4U

KNP2900S60A

2700

3100

1000

60

100~260VAC, 50/60Hz

19', 5U+3U

KB0732S57A

700

3200

500

57

100~260VAC, 50/60Hz

19',5U

KB0732S53A

700

3200

200

53

100~260VAC, 50/60Hz

19',4U

KB0738S57A

700

3800

500

57

100~260VAC, 50/60Hz

19',5U

KB0738S53A

700

3800

200

53

100~260VAC, 50/60Hz

19', 4U

KB0738S50A

700

3800

100

50

100~260VAC, 50/60Hz

19', 4U

KB2040S53A

2000

4000

200

53

100~260VAC, 50/60Hz

19', 5U

KB2040S50A

2000

4000

100

50

100~260VAC, 50/60Hz

19',4U

KB2040S47A

2000

4000

50

47

100~260VAC, 50/60Hz

19', 4U

KB0842S50A

800

4200

100

50

100~260VAC, 50/60Hz

19', 5U

KB0842S47A

800

4200

50

47

100~260VAC, 50/60Hz

19', 4U

KB0460S47A

400

6000

50

47

100~260VAC, 50/60Hz

19', 2U

KB1060S50A

1000

6000

100

50

100~260VAC, 50/60Hz

19', 5U

KB2060S53C

2000

6000

200

53

100~260VAC, 50/60Hz

482 x 221.5 x 500

KB2060S53A

2000

6000

200

53

100~260VAC, 50/60Hz

19', 5U

KB2060S50A

2000

6000

100

50

100~260VAC, 50/60Hz

482.6 x133 x 605

KB2060S49A

2000

6000

80

50

100~260VAC, 50/60Hz

19', 4U

KB2560S53A

2500

6000

200

53

100~260VAC, 50/60Hz

19', 5U

KB2560S50A

2500

6000

100

50

100~260VAC, 50/60Hz

19', 5U

KB2560S47A

2500

6000

50

47

100~260VAC, 50/60Hz

19', 4U

KB3060S50A

3000

6000

100

50

100~260VAC, 50/60Hz

19',5U

KNP6300S55A

6000

6600

300/PW=100us DC=10%

55

100~260VAC, 50/60Hz

19', 5U

KNP6800S55A

6400

7200

300/PW=100us DC=10%

55

100~260VAC, 50/60Hz

19', 5U

KNP8600S60A

7600

9600

1000/PW=100us DC=5%

60

100~260VAC, 50/60Hz

19',5U+4U

KNP8600S55A

7600

9600

500/PW=100us DC=10%

57

100~260VAC, 50/60Hz

19',5U

KNP9200S60A

8900

9600

1000/PW=100us DC=5%

60

100~260VAC, 50/60Hz

19',5U

KNP9200S57A

8900

9600

500/PW=100us DC=10%

57

100~260VAC, 50/60Hz

19',5U

KNP9200S55A

8900

9600

300/PW=100us DC=5%

55

100~260VAC, 50/60Hz

19', 5U

KNP9300S53A

9100

9600

200/PW=100us DC=5%

53

100~260VAC, 50/60Hz

19', 4U

KNP9500S60B

9000

10000

1000

60

100~260VAC, 50/60Hz

19', 4U

KNP9500S60A

9000

10000

1000/PW=100us DC=5%

60

100~260VAC, 50/60Hz

19',5U

KB80120S50A

8000

12000

100

50

100~260VAC, 50/60Hz

19' , 5U

KN14900S53A

14400

15400

200

53

100~260VAC, 50/60Hz

19', 5U

KB60180S50A

6000

18000

100

50

100~260VAC, 50/60Hz

482 x 177 x 440

KB60180S47A

6000

18000

50

47

100~260VAC, 50/60Hz

19', 5U

KB60180S43A

6000

18000

20

43

100~260VAC, 50/60Hz

19', 4U