Image rejection microwave mixers
Active Components > Mixer
Noise deterioration can be effectively avoided;




Image frequency interference resistant;




Image

suppression: 25dBc;




The operating frequencies of the products can cover 0.5

~

32 GHz;




The power of the local oscillator: +7, +10, +13 dBm;




Multiple types of connecto

rs: SMA connector, connectorless contact pin embedded-type, and surface-mounting type.



Brief introduction of the products:
The wideband image suppression mixer serial products developed and manufactured by Hengwei Microwave Electronic Co Ltd. adopt advanced micro-electronic packaging technology, which have features of wide LO,RF operating frequency band, low loss, high image suppression, high reliability and small size, etc. This series of products can be divided into the following categories: wideband image suppression mixers and I/Q mixers.
Application
of the products:
This series of products are mainly used for single sideband modulation, interference noise modulation, RF signal frequency shift interference, I/Q multiple signal modulation and microwave RF signal processing in the fields of wireless communication, frequency-agile radar and wideband microwave communication etc. They can output sine and cosine orthogonal signals. They can also be used for frequency discrimination and phase discrimination measurement, orthogonal signal phase detector, and high-speed frequency measurement guidance for IFM receiver.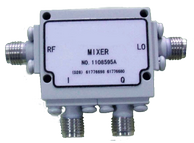 other alternatives : visit Motech-Electronics website