Tunnel Diodes
Microelectronics Components > ACTIVE > Diodes
Tunnel Diodes

Part Number

Ip range

Iv max

Vr(typ)

Vf(max)

Ct (max)

RFQ

&

QUOTE

Ir = 500mA

If = 3mA

(uA)

(uA)

(mV)

(mV)

(pF)

Tunnel Diode

MP1101

0 - 100

40

425

150

0.2

Tunnel Diode

MP1100

0 - 100

40

425

145

0.25

Tunnel Diode

MP1102

0 - 100

40

425

145

0.3

Tunnel Diode

MP1103

0 - 100

40

425

145

0.4

Tunnel Diode

MP1104

0 - 100

40

425

145

0.5

Tunnel Diode

MP1105

0 - 100

40

425

145

0.7

Tunnel Diode

MP1201

100 - 200

80

425

135

0.2

Tunnel Diode

MP1200

100 - 200

80

425

130

0.25

Tunnel Diode

MP1202

100 - 200

80

425

125

0.3

Tunnel Diode

MP1203

100 - 200

80

425

130

0.4

Tunnel Diode

MP1204

100 - 200

80

425

130

0.5

Tunnel Diode

MP1205

100 - 200

80

425

130

0.7

Tunnel Diode

MP1301

200 - 300

100

425

125

0.2

Tunnel Diode

MP1300

200 - 300

100

425

125

0.25

Tunnel Diode

MP1302

200 - 300

100

425

120

0.3

Tunnel Diode

MP1303

200 - 300

100

425

120

0.4

Tunnel Diode

MP1304

200 - 300

100

425

120

0.5

Tunnel Diode

MP1305

200 - 300

100

425

120

0.7

Tunnel Diode

MP1451

300 - 450

150

425

120

0.2

Tunnel Diode

MP1450

300 - 450

150

425

120

0.25

Tunnel Diode

MP1452

300 - 450

150

425

120

0.3

Tunnel Diode

MP1453

300 - 450

150

425

115

0.4

Tunnel Diode

MP1454

300 - 450

150

425

115

0.5

Tunnel Diode

MP1455

300 - 450

150

425

115

0.7

Tunnel Diode

MP1601

450 - 600

225

425

115

0.2

Tunnel Diode

MP1600

450 - 600

225

425

110

0.25

Tunnel Diode

MP1602

450 - 600

225

425

105

0.3

Tunnel Diode

MP1603

450 - 600

225

425

110

0.4

Tunnel Diode

MP1604

450 - 600

225

425

110

0.5

Tunnel Diode

MP1605

450 - 600

225

425

110

0.7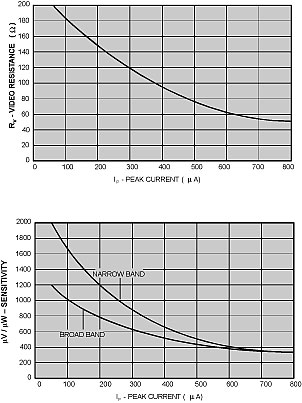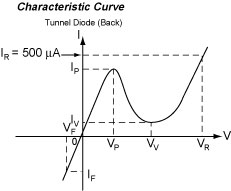 Typical Detector Circuits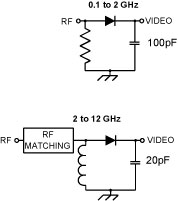 Chip (C2) Assembly Notes
Thermo Compression Wedge Bonding:
1.Use 0.7 mil gold wire. 2.Tip temperature =180°C MAX 3.Stage temperature =160°C MAX .
Die attach.
1.Silver epoxy with a maximum cure temperature of 125°C is recommended
Package Assembly Notes
Lead Attach 1.230°C Solder attach for 5 sec. MAX.
Extremely Static Sensitive Devices
1.Chip top is cathode.
2. Detected output will be negative
from the cathode contact.
EVIRONMENTAL RATING
-----------------(MAXIMUM)---------------
Operating Temperature ...................-65°C to +125°C

Storage Temperature.......................-65°C to +150°C
Power Dissipation @ 25°C..............100mW. Derate
...............................................Linearly to zero at 125°C
Soldering Temperature...........230°C for 5 seconds