Noise Generator
Millimeter Wave Components
I
n
si
g
h
t
IMPATT Noise Generator 94 GHz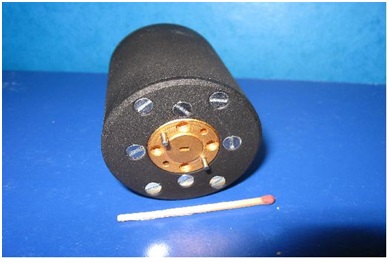 Insight Product Co. IMPATT Noise Generator at 94 GHz has 2 GHz bandwidth and 1 mW output power,
and allows variable pulse duration and repetition rate.
IMPATT Noise Generator, 94 GHz

Operation Frequencies:

93-95 GHz

Output power at 94 GHz

is equivalent to:

1 mWatt

Pulse duration :

500 ns - 6 ms

Pulse repetition period, kHz:

0.3-1.0

Flange

UG387/U

Waveguide

WR-10

AC power supply :

115 V
Insight Product Co. Partial Customer List:

NASA; Jet Propulsion Laboratory; NIST; MIT; Harvard University, Cornell University; UCLA; UCSD,
UC-Davis, SUNY-Stony Brook, Argonne National Laboratory, United States Naval Research Laboratory, Los Alamos National Laboratory; Raytheon Corp., Microsemi Corp., ETH-Zurich, Switzerland; SRON Lab for Space Research, Netherlands; Friedrich-Alexander Univeristy at Erlangen-Nurnberg, Germany; Seoul National University, South Korea; Okinawa Institute of Science and Technology, Japan; National Institute of Information and Communications Technology, Japan.