Passive frequency Doublers
Active Components > Frequency Multipliers
Passive frequency Doubler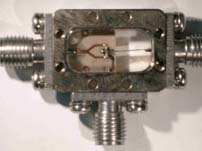 Features of the products:

Small size, flexible and multiform structure;




Mature technology, stable and reliable performances;




The operating frequencies of the products can cover 1~22 GHz;




Operating temperature range: -55℃~+85℃;




The driving power of the local oscillator: 13 dBm;




Multiple types of connectors: SMA connector, connectorless contact pin embedded-type, and surface-mounting type.
Brief introduction of the products:

The wideband passive frequency multiplier serial products developed and manufactured by Hengwei Microwave Electronic Co Ltd. adopt advanced micro-electronic packaging technology, which are ideal accessories used to expand the frequency ranges of microwave signal generators, frequency synthesizers, and other microwave signal sources.
Application of the products:

This series of products have been widely used to double-multiply the microwave signals and suppress the fundamental and harmonics in the fields of microwave communication, radar, remote control, remote sensing, electronic reconnaissance, electronic countermeasures and wireless measurement, etc.